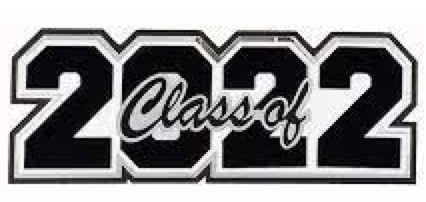 CLASS OF 2022
Attached are the pictures from the Commencement held on June 10, 2022 from MKK Photography.
If you wish to download or have a printed image from the ceremony they can email Ms. King at:
mkkphotography@outlook.com to purchase the digital version and or a print.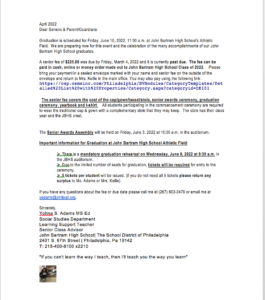 NEW ANNOUNCEMENT
Be On The Yearbook SUMMER VIBES PAGE!
Selfies or Pics with Family or Friends of:
Summer Vacations
At home or at your Summer Job
At the Jersey Beaches or Boardwalks
You can send up to 3 pictures to gboyle@philasd.org or text them 484-889-9922
LINK TO SENIOR CLASS INSTRUCTIONS VIDEO
SENIOR SLIDE SHOW JANUARY 2022
Senior Dates and Costs 2021-2022
Important Dates:
Cap and Gown Measurements: TBD @ John Bartram High School
Senior Night: TBD
Senior Portraits: October 25th-October 29th,  2021 8:30am-2:30pm (Appointment Cards will be handed out by Advisory teachers)
Prom: May 13th 2022 @ The Camden Aquarium Cost: $125.00 PER PERSON
Senior Trip: The Spirit Of Philadelphia May, 18th, 2022 Cost: $60.00 Payment Due by January 28th, 2022
Senior Awards Cermony: June 7rd, 2020 12:30 PM @ Bartram High School in the IMC
Senior BBQ: Neshaminy Shore Picnic Park  Cost: $40.00 Payment Due by December 1st, 2021
Graduation: June 10, 2022  11am @ Bartram High School Field (58th St and Elmwood Ave)
****ALL TRIPS HAVE BEEN ITEMIZED, THEY ARE NOT A PART OF GRADUATION DUES****
Senior Package Graduation  2021-2022
Package: Cost: $225.00  Due Date: March 4th 2022
Includes: CAP/GOWN, STOLE, YEARBOOK, GRAD. INVITATIONS, SR. AWARDS CERMONY, KEEPSAKE, SR TSHIRT (The back will only have the word SENIOR on it.) Payments are to be paid by money order, online payment or cash. NO PERSONAL CHECKS will be accepted.
1st Payment: October 29th, 2021- $50.00
2nd Payment: November 19th, 2021- $50.00
3rd Payment: December 10th, 2021- $50.00
4th Payment: January 14th, 2022-$50.00
5th Payment: Feburary 11th, 2022- $25.00
https://osp.osmsinc.com/Philadelphia/BVModules/CategoryTemplates/Detailed%20List%20with%20Properties/Category.aspx?categoryid=DE101
Prom Tickets:
Cost: $125.00 per ticket-includes admission and keepsake (This cost is NOT a part of the graduation package)
*Dues Deadline: March 4th 2022!!! You can NOT purchase a prom ticket or pay for trips without your dues being paid in full*